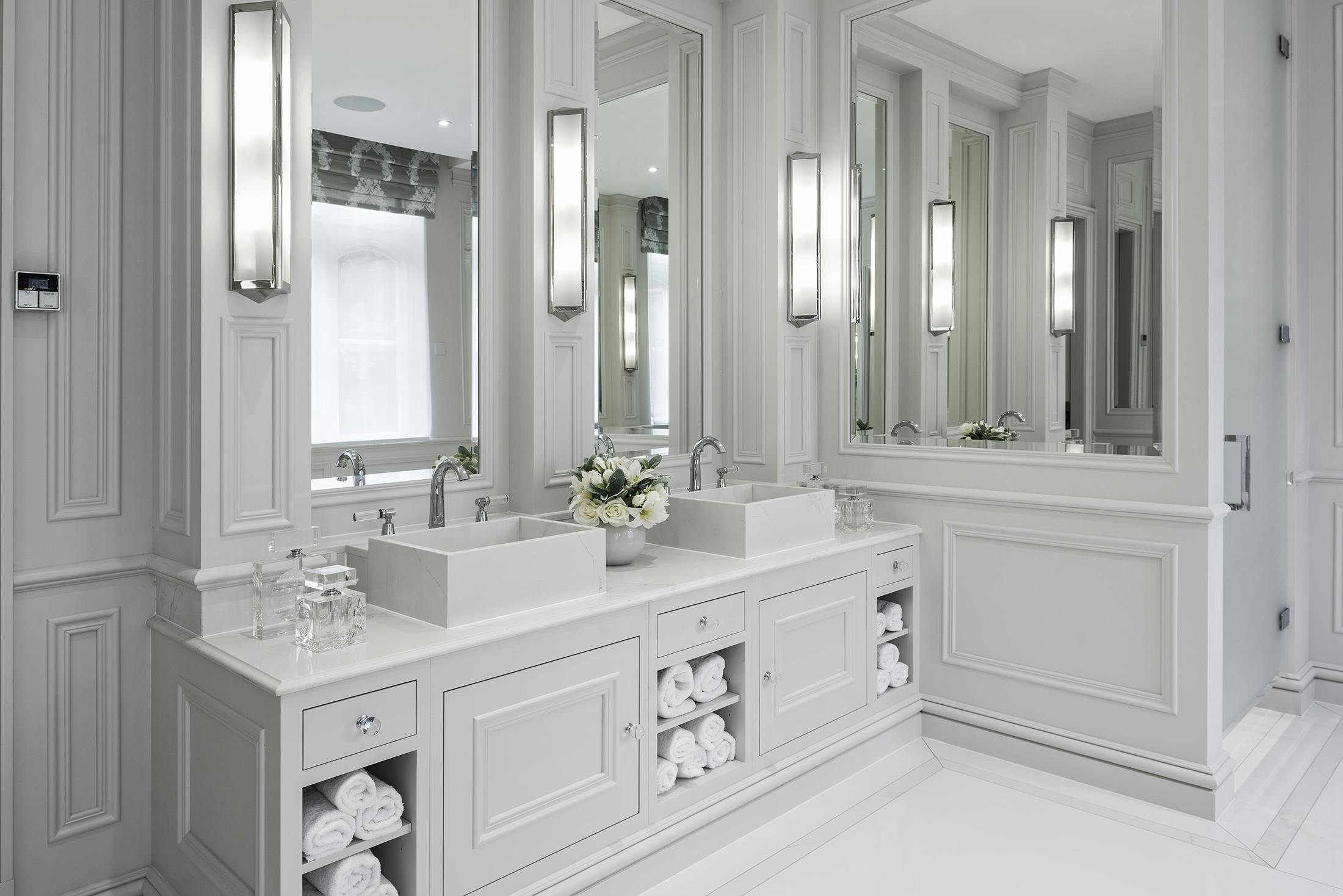 Photo credit: Patsy Blunt Interiors
Multiple | Crystal Bathroom Fixtures
With the inclusion of crystal details, it is possible for plain bathrooms can be enhanced with lavish grandeur.
The bathroom is now regarded as the 'sanctuary' of the home, evolving from what was once a clinical space to one which is inspired and inviting. From marble countertops to quartz tiling, homeowners are searching for ways to add unique and customizable crystal details to the bathroom.
Brass bathroom fixtures with crystal details are an ideal way to add indulgent glamour to a bathroom scheme, while paying homage to functionality and practicality. Maximizing crystal details with matching cabinet hardware and decorative accessories such as vases or bottles can create further interest and a dazzling effect. Layering such crystal accents can also add a fresh dimension to more traditional vintage or classic bathroom themes.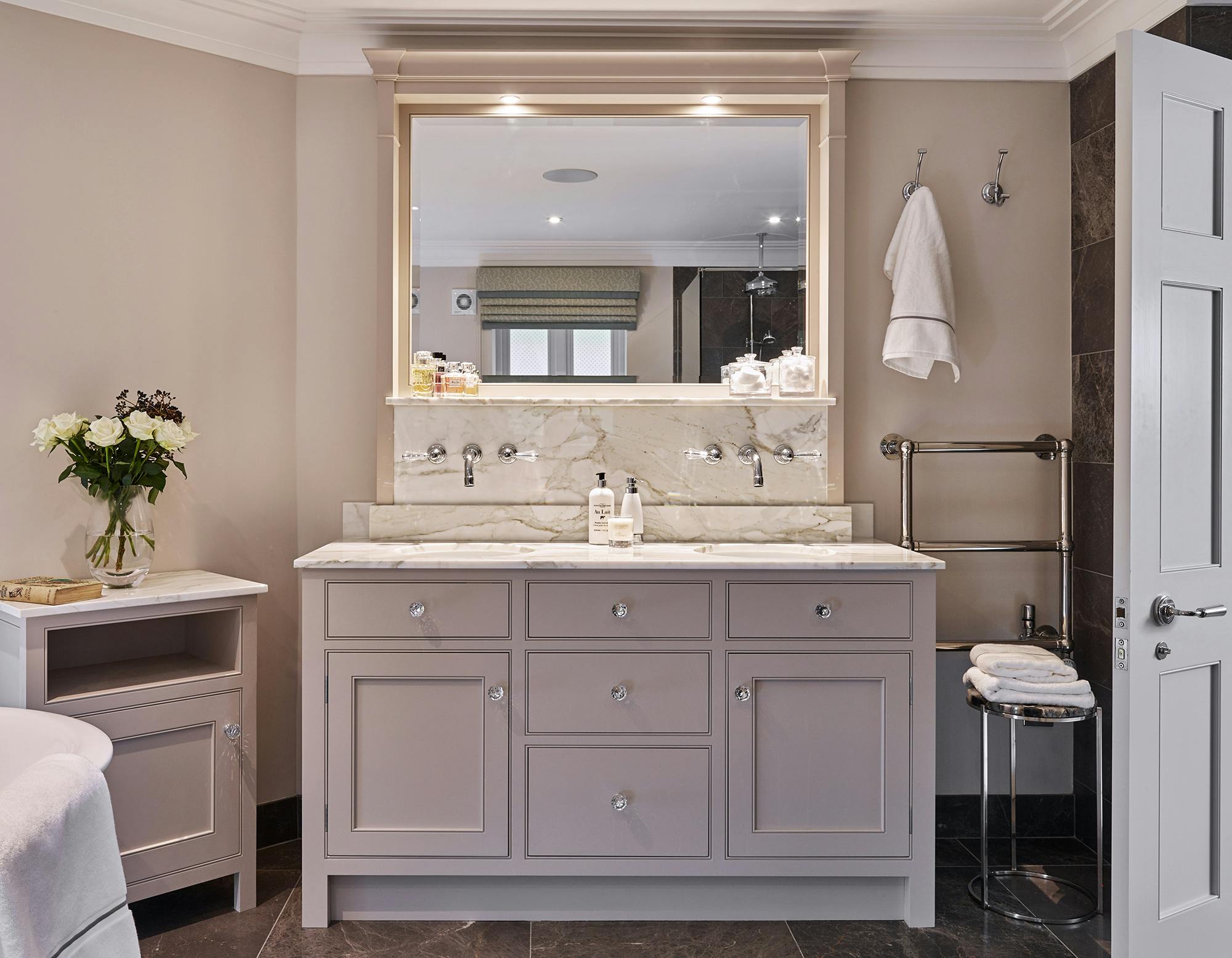 Photo credit: The Secret Drawer
Three Samuel Heath brassware collections feature crystal design options – One Hundred Collection, Fairfield and Style Moderne. Each collection of taps, showers and accessories are British imagined and bare unique design features, along with extensive finish and control options. All three collections of luxury bathroom fixtures are also manufactured in Britain, combining the very latest in modern production techniques and time-honoured craft skills, to offer functional performance as well beautiful finishes.
The One Hundred Collection of brassware includes the option of Crystal Roundels – round controls for basin taps, shower plates & bath mixers with intricately cut, light-refracting inserts and a tactile touch that demands to be used. The option to combine Black or Clear inserts with alternative finishes allow for a bespoke look and lustrous effect, seen to interact nicely with glossy marble units and basin tiles.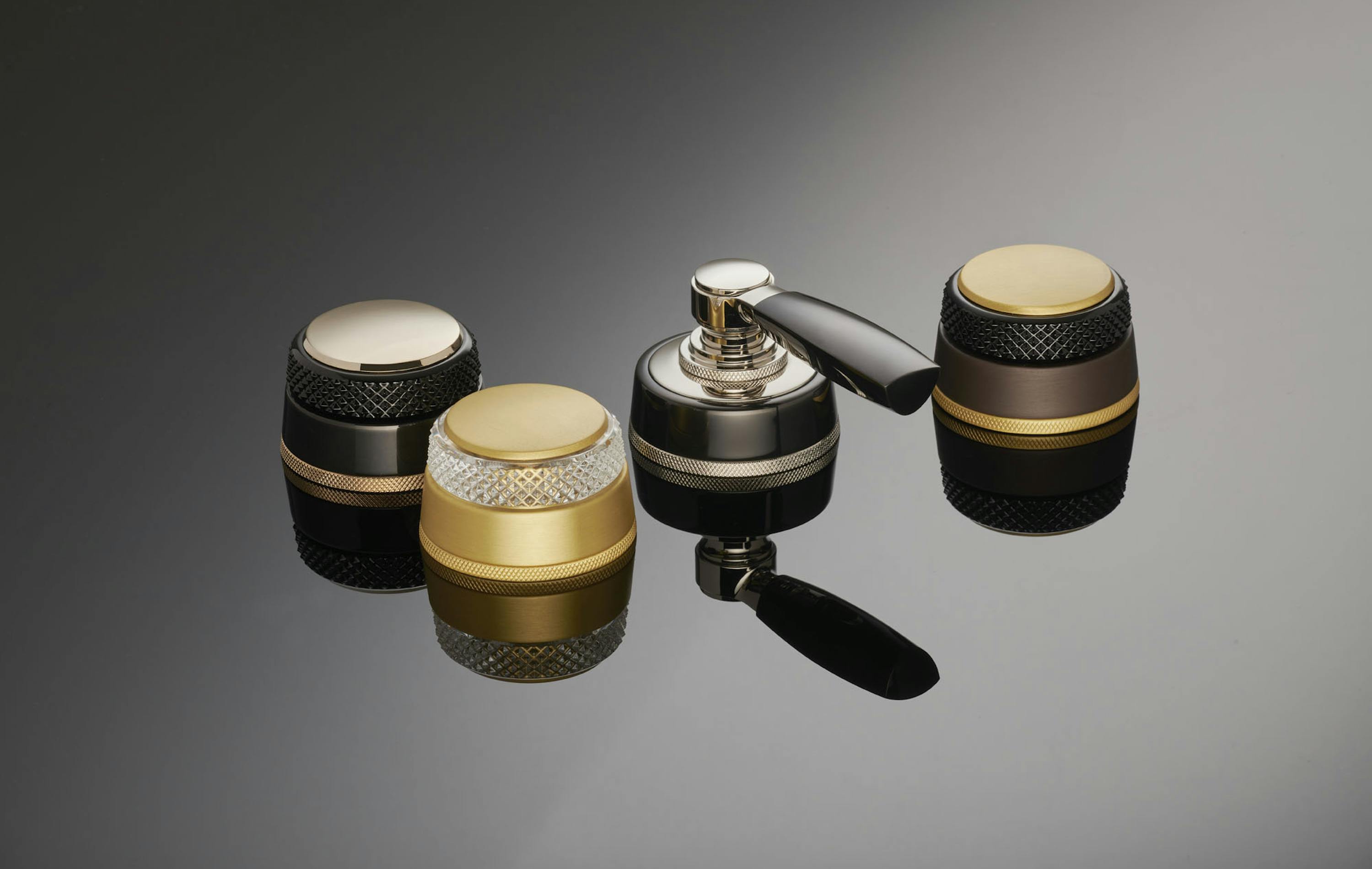 Fairfield brassware is synonymous with the formal design influences of the 1880 - 1910 Arts and Crafts movement and offers design options enhanced by a choice of cross-top controls or levers in various finishes. Organic Crystal or Geometric Crystal shapes of Crystal controls in Black or Clear finishes widen the possibilities of involving glittering cut glass details into bespoke bathroom design. The smooth touch of Organic Crystal can create a spa-like effect within a walk-in shower, while Geometric Crystal controls can draw the eye to the use of sharp geometry within the room.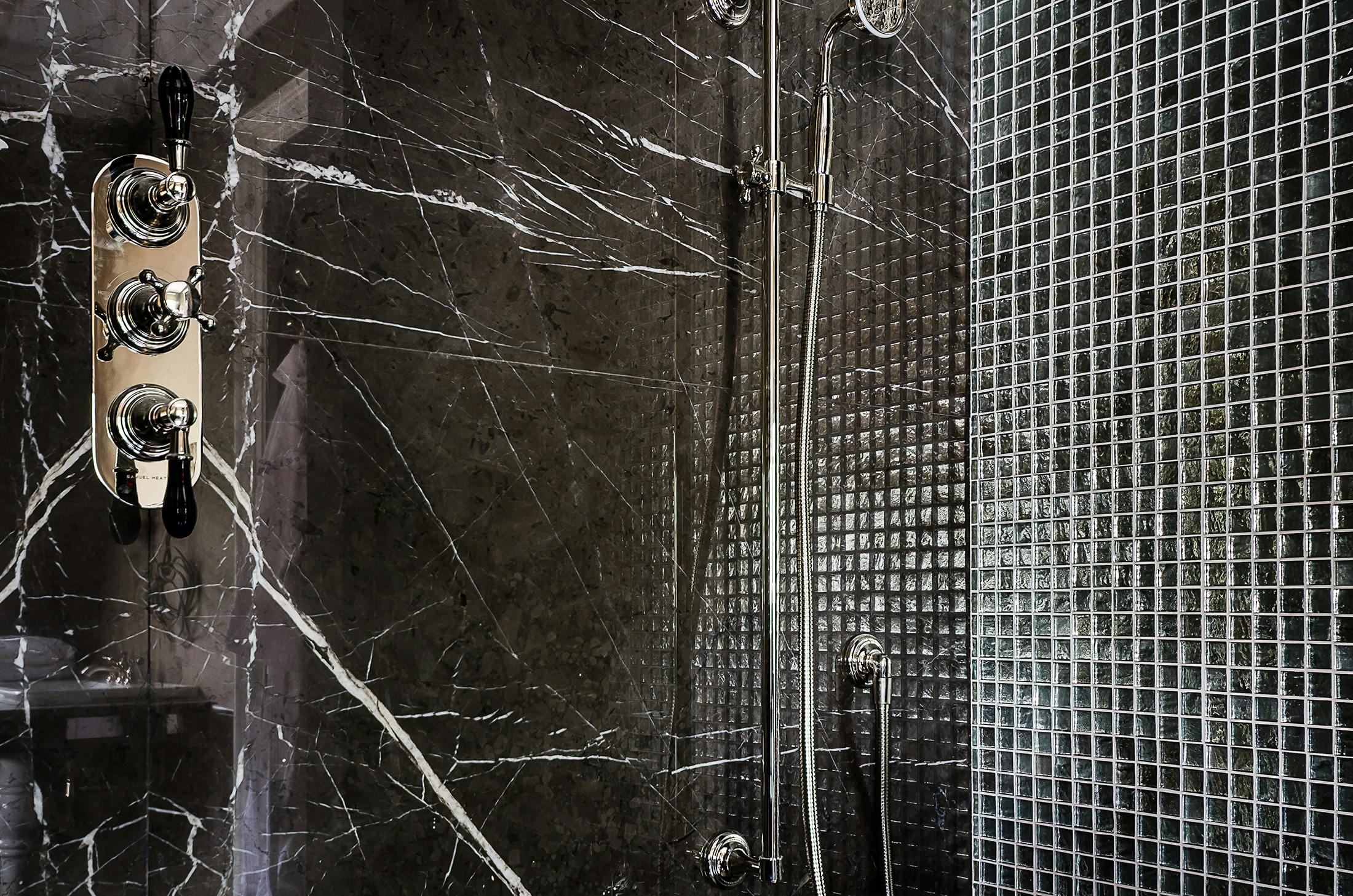 In contrast to the curved, classic designs of Fairfield fixtures, Style Moderne brassware presents dramatic lines and stepped details reminiscent of 1920's – 1930's Art Deco. The option of round or lever glass controls, together with angular contours of the fixtures, can add a striking beauty when paired with lustrous metallic finishes, including Chrome Plate, Polished Nickel or Antique Gold.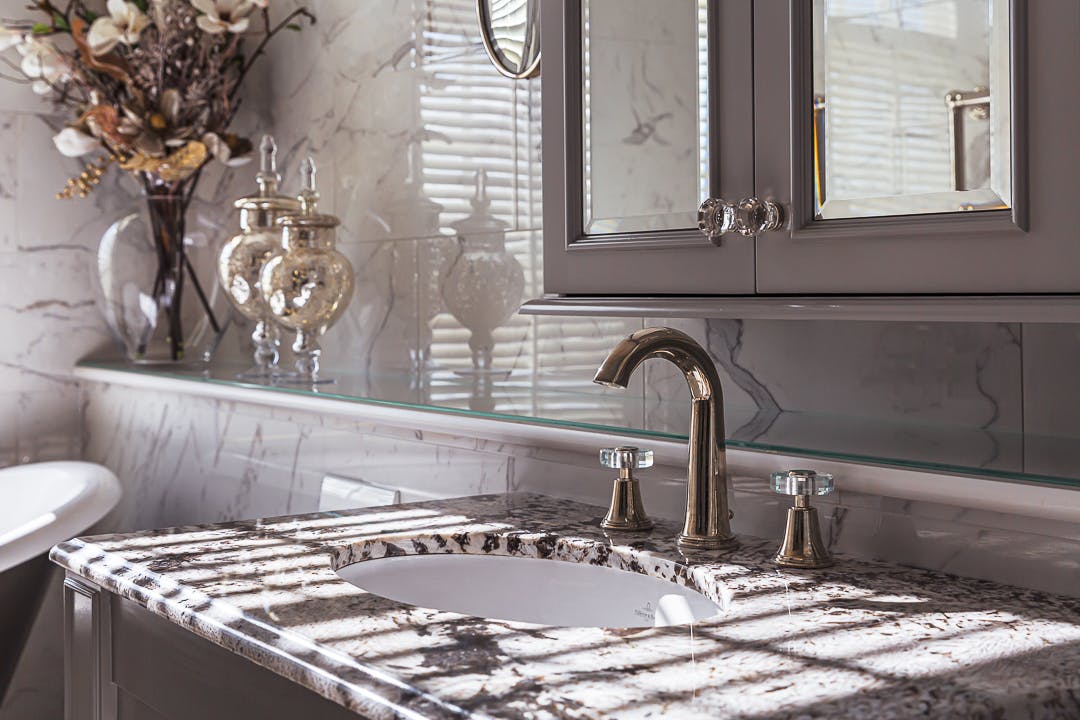 Photo credit: Fred & Ginger
While some semi-precious crystals are porous and delicate, all crystal details within Samuel Heath brassware collections are designed to be practical for the bathroom environment. Our representatives and showroom design team are able to offer expertise in selecting crystal controls for your upcoming projects.
Contact us
Please fill out the form to send us a message or enquiry.