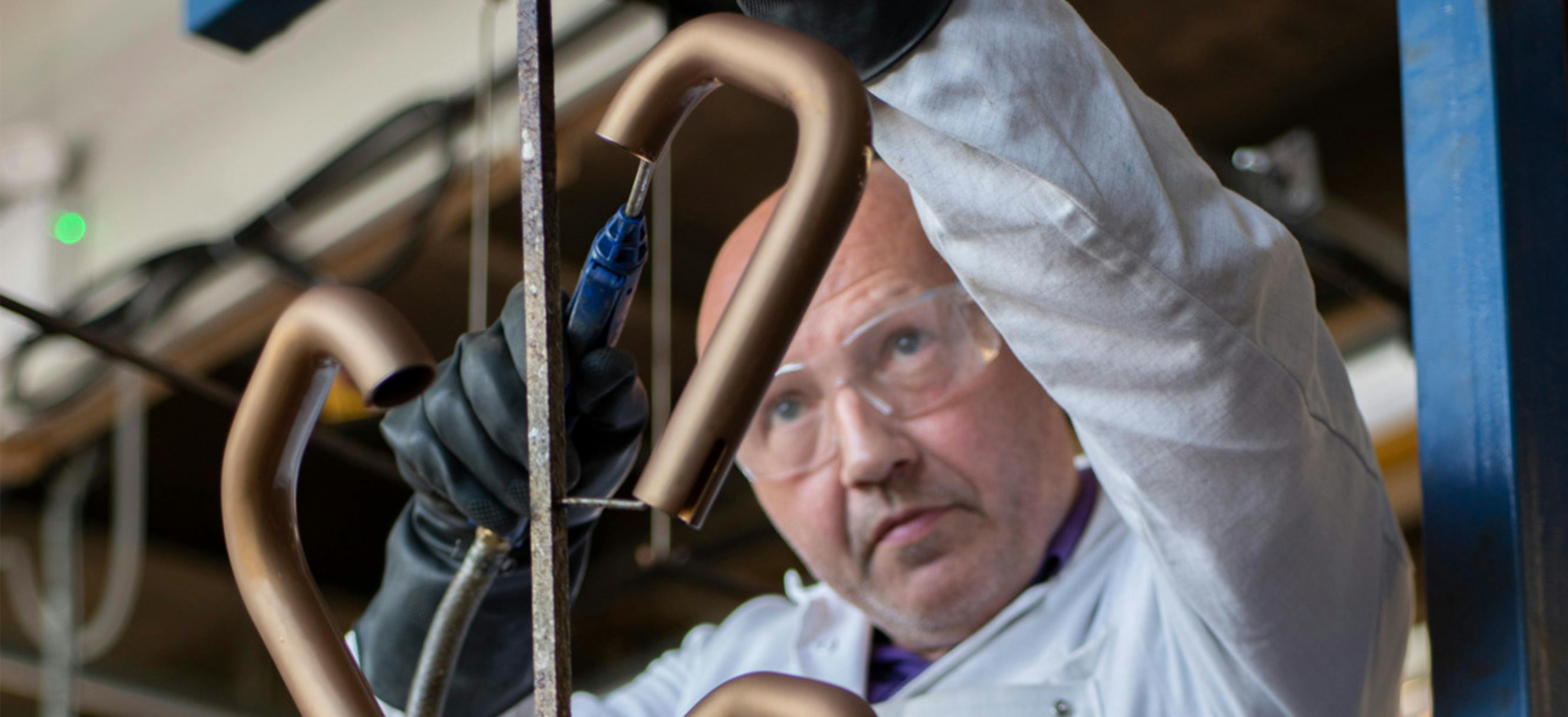 Specialist Brassware Finishes: Creating Antique Brass Matt
Discover the journey of achieving our new aged brass effect finish, where chemistry and artistry join to achieve the most beautiful result.
Each finish is a true feat of excellence at Samuel Heath. From unlacquered Urban Brass, brushed Stainless Steel to lacquered Brushed Gold Gloss, each expertly curated finish is the joining of chemistry and artistry to achieve the most beautiful result. The entire process is just one part of the brassware manufacturing journey that takes place at our 19th century brass foundry in Birmingham, England.
Creating finishes is a careful art of chemistry that only our skilled technicians can regulate, achieved through years of dedicated practice and a high level of skill. Our in-house plating shop allows us to exceed standards to achieve premium results, such as our choice to plate raw brass with a base layer of copper for additional longevity.  It also supports the creative expression of our technicians, by facilitating experiments in the layering and blending of brass surfaces, to result in our truly unique finishes. Each finish is slowly developed using layers of rinsing and plating treatments that manipulate every micron on their surface to a consistent level, each and every time.  
Read on to discover the process of achieving our all new finish, Antique Brass Matt – our 16th finish offering within the brassware finish range. This warm brass tone is designed to provide an immediate aged look from the outset, without having to wait for the natural brass patina to develop. The additional matt lacquer coating also means that interior designers can specify the finish for bathroom schemes, with confidence that its patina effect will maintain its appearance over time, without the need for a rigorous cleaning regime.
The journey begins by placing the raw brass product onto a metal jig, with a unique design developed by Samuel Heath tool engineers to ensure that products will withstand the upcoming treatments. The brass needs to be completely free of residue, so a number of cleaning processes must be undertaken including one with de-mineralized, extra purified water. This is because something so minute as the subtle calcium and fluoride in tap water could risk disrupting the art of layering finishes to perfection.
Lacquering is the next crucial process in order to develop the rich, golden undertones of the finish. In order to achieve a strong, even coating of lacquer a surge of electrical current is required in a concentrated dose during the electrophoretic process.
Next is the colour application, where we see the brass adopt its darker, warm tones. The operator then places the jig onto an oven track, where an air gun is used to completely remove any excess water, as the smallest droplets can risk imperfection.
Finally, the finish is then heated in a large oven, allowing the finish to fully cure. This is when the unique characteristics of Antique Brass Matt truly emerge. Afterwards it takes a further 24 hours for the finish to fully set to the surface of the metal, into its most durable state.
Craftsmanship remains central to the Samuel Heath ethos and the application of finishes is true labour of love. This process joins a journey of time-honoured techniques that are apparent within every inspection of a Samuel Heath product.
The final result is a rich, golden finish with dark undertones that echo to a bygone era. This charismatic effect can support interior styles that are designed to evoke a sense of wellness within the home. Read more on the holistic effects of aged brass fittings here.
Contact us
Please fill out the form to send us a message or enquiry.